Site Searches allow you to link directly to the results page of a predefined real estate listing search. For example, you can create a site search that displays homes for sale in a city or cities that are available for $150,000 to $300,000.
Get Started
To save site searches, you will need to be logged into DaknoAdmin. Once logged in, conduct a search. To know that you are saving to your site take a look at the DakBar on the top of the search page, it will read "Saving to DaknoAdmin". If you see an email address at the top of the page it means that you are saving to a contacts Property Organizer.


Saving Your Search
Once you are satisfied with the results of the search, it's not too broad or too specific, click the Heart-shaped Save Icon at the top of the page.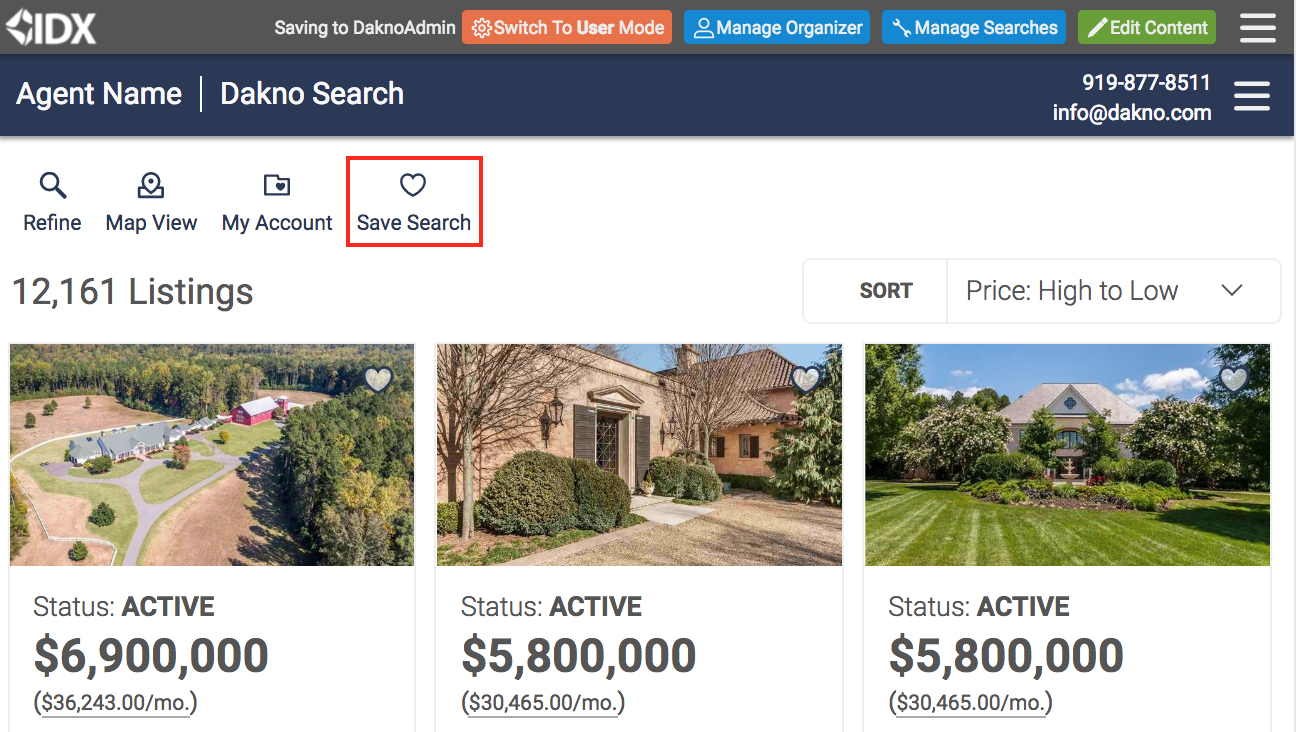 Give your search a friendly name, something that isn't too long, but describes the search. Examples of friendly names are raleigh_homes_300k-500k, homes_with_pools, new_construction_homes_under_250k.
If you're creating searches to use on the Search Landing Page, we recommend that your friendly name uses underscores (_) where you want a space to be. The name will be used as the header. For example, if you want to provide a search for pools - the friendly name will be Homes_With_Pools, which will be translated to Homes With Pools on the search landing page.
-> Display results on pages within your DaknoAdmin site with our shortcodes as a table, grid, or carousel
Refining or Copying Your Search
After you save a search, you may want to modify it.
To manage your site searches either Log into DaknoAdmin and click Site Searches under DaknoIDX > yoursearchdomain.com or click Manage Searches on the DakBar on your search page.
Click on the search you'd like to refine.
This will take you to the Site Saved Search page with the link to edit the results.

Click the Edit Link to modify the search
Modify your search, and click Save on the bar at the top of your website. This provides you with a selector you can toggle to either update the existing search, or to create a new search.
If Update Existing Search is selected you will overwrite the current search.
If Update Existing Search is not selected you will create a new search